FLUIDIZATION TUNNEL FREEZER
Product introduction
The fluidized-bed Tunnel IQF uses stainless steel or modular plastic belt. The foods completely or incomplete float with the vertical upwards air flow. The floating granular products are quickly frozen by the cold air flow. Below and by the sides of the belt, the vibrator is equipped to prevent the products from sticking to each other.Freezing capacity is between 500kg/h~3000kg/h.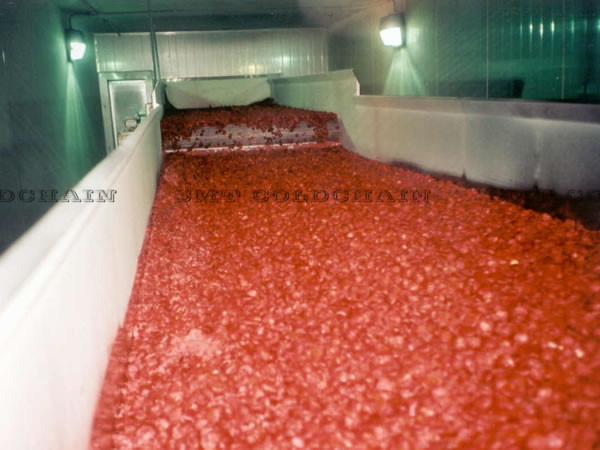 The two stage fluidized bed IQF has completely eliminated the problem of product sticking to each other, and optimized the freezing result of granular products..
Upon customers' request, the vegetable equipment are also available, including vegetable cleaner, vegetable blancher,vegetable cooler, vibrating water/vegetable separator and conveyors.
Technical Specification

Features of Our System
•Quiet centrifugal fans generate high pressure, high velocity and low temperature airflow vertically upwards through the belt.
• The coil,fans, conveyor belt and baffles create closed air circulation to ensure efficient heat absorption from the food.
• The food completely float or incompletely float with the vertical upwards air flow.
• The food is quickly frozen at the infeed with the surrouding cold air flow. The glaze on the food surface prevent the moisture from further loss.
Frozen Food
Fruit ,vegetables,seafood and etc.