SINGLE DRUM SPIRAL FREEZER
Product introduction
Spiral freezer is a high efficient freezing system which can freeze large quantity of products in limited space. Freezing capacity is between 200kg/h~3000kg/h.
Comparing with other type IQF food freezers, spiral freezer system has its own advantages. There is a long mesh-belt in the body of the freezing system. The frozen foods stay in the cryogenic surrounding for long time. It has enough time to freeze the foods more deeply. Thanks to the long time freezing, the spiral freezer can work with small capacity compressor, it will save more investment in the refrigeration system. In the same floor space, spiral quick freezer has larger freezing capacity.
We also provide the solutions to customized demand. We can design the freezing capacity, equipment size, belt length, inlet and outlet directions according to customers' indication.
Technical Specification

Infeed And Outlet Direction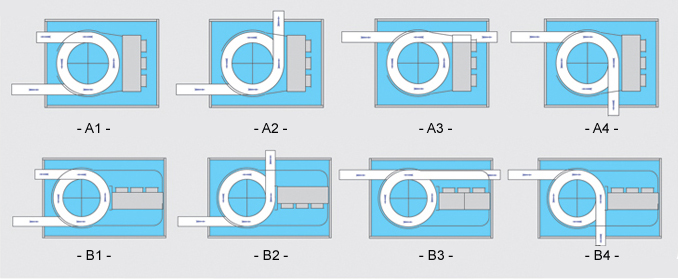 Features of Our System
• Compact structure, saving space
• Good quality and thick body to insulate
• Stainless Steel belt, long duration to use
• Touch digital screen, easy to operate
• Optimized refrigeration design

Frozen Food
Bakery, meat, poultry , seafood,ice cream and etc.